Purchase ACTV Tickets Online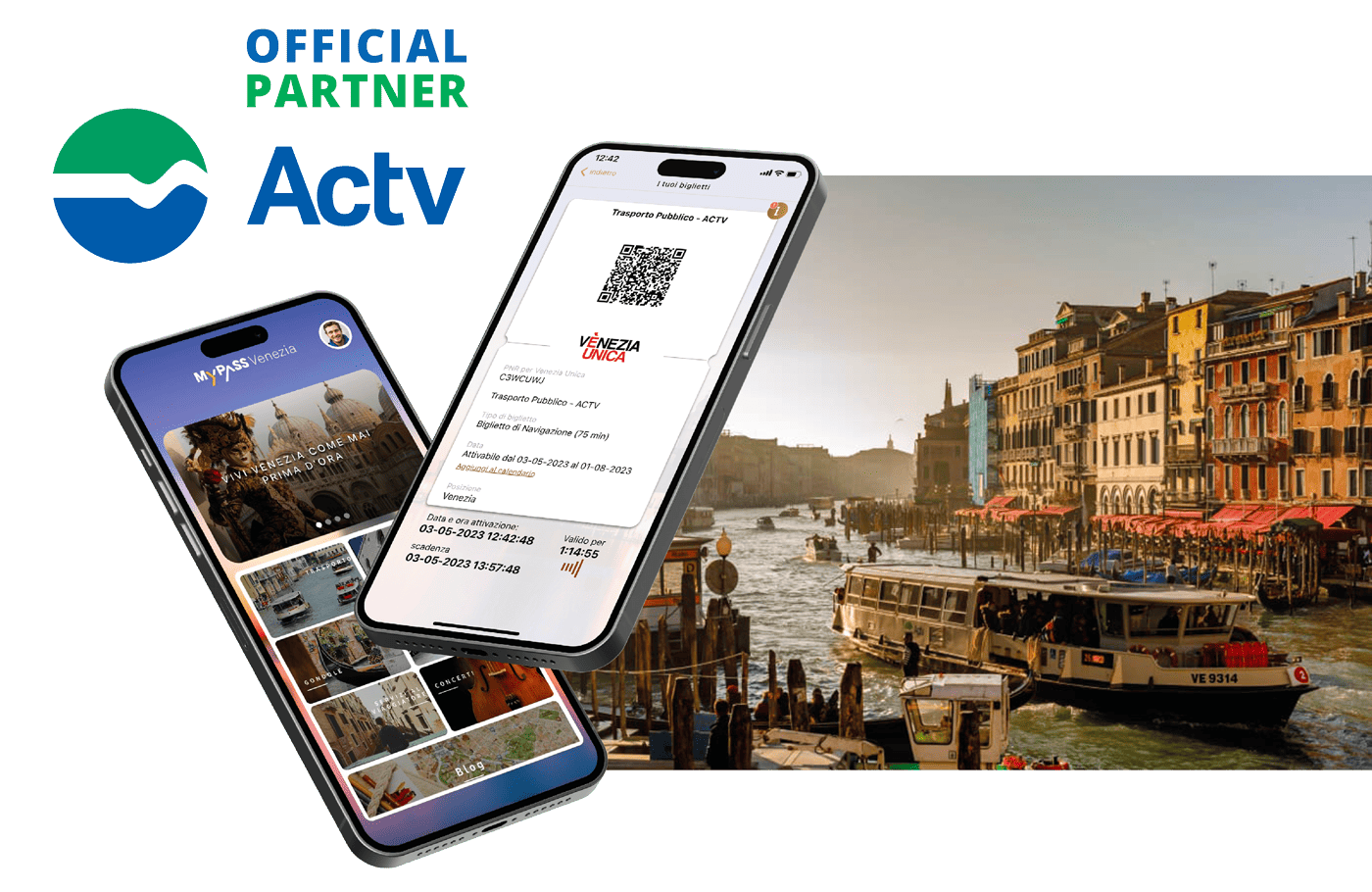 The only app that allows you to purchase, validate, and store ACTV travel tickets directly on your smartphone
Store and validate the ticket directly on your smartphone
Skip the line at the ticket counters with direct access to the pier
Flexible booking: can be cancelled up to the day before
Real-time route calculation for a smooth navigation
How to purchase an ACTV ticket
What does the ACTV ticket for public transportation in Venice include?
Timetables and frequencies of the water buses in Venice.
Discover the departure and arrival times of vaporettos in Venice. Find all the information on service frequencies to better plan your itinerary.
Vaporetto Lines Map in Venice
Explore the vaporetto lines in Venice through the interactive ACTV map. View the main stops, routes, and plan your travels easily and efficiently. You can consult the interactive map or save it on your smartphone by downloading the PDF version.
Which lines to use to reach the main tourist attractions
Line 1 and Line 2 are also referred to as "city center lines" as they traverse the inner part of Venice's historic center, navigating the Grand Canal.
The "giracittà" lines 4.1, 4.2, 5.1, 5.2, 6 instead follow a circular route along the outer perimeter of Venice, also connecting to the major and minor islands of the Venetian archipelago.
The "laguna" lines reach the outermost areas (Burano, Torcello, Sant'Erasmo, San Servolo, etc.) and the peripheral zones of Venice (Tessera/Airport, Treporti, Punta Sabbioni, Chioggia, Fusina).
Lastly, the night line (operating from 00:00 to 5:00) follows its route along the Grand Canal, essentially equivalent to the daytime Line 1.
Useful information for using public transportation in Venice.
To make your public transportation experience in Venice even more enjoyable, we have gathered some valuable information.